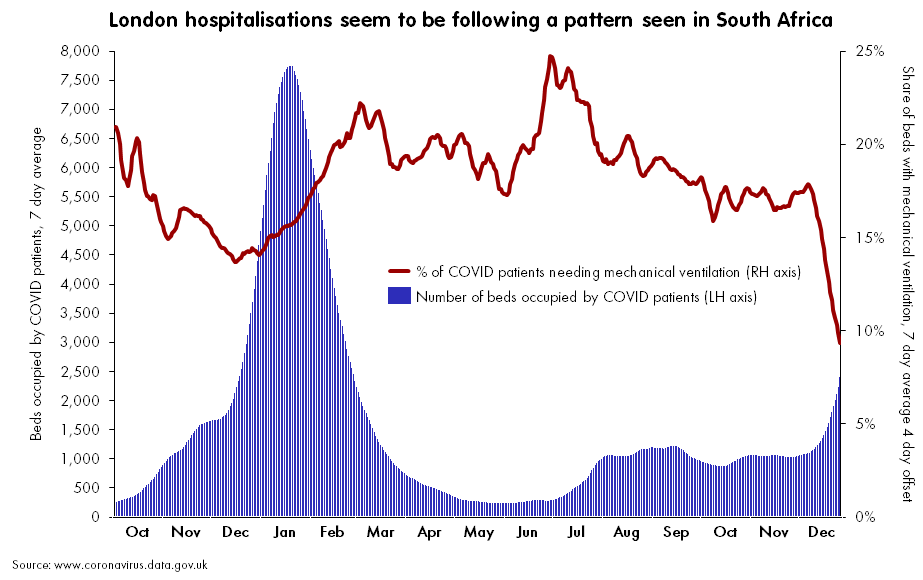 It's now been over a month since Omicron arrived in the U.S., and the variant's impact is clear: January is about to be nasty. Here are the major updates from this week:
Omicron continues to cause the majority of new cases in the U.S., but the CDC revised its estimates down this week. On Monday, the agency updated its variant proportions estimates; according to the new data, Omicron caused 59% of new cases in the U.S. in the week ending December 25. Notably, this was lower than the previous week's estimate of 73%. As I explained in a Twitter thread, the CDC's variant proportions data are estimates with very wide confidence intervals, based on sequencing data that are reported with a lag of multiple weeks. And the agency's slow pace of updates means that its estimates are unlikely to match the actual variant situation in the U.S. anyway. Still, the CDC data do tell us that Omicron is causing the majority of U.S. cases right now, and that it became dominant over Delta in under one month.
Outdoor concerts in Puerto Rico were a superspreading event for Omicron. Puerto Rico has been a pandemic success story, with one of the highest vaccination rates in the nation. But the territory is currently reporting record COVID-19 cases thanks to Omicron, with an increase of over 5,000% in the space of two weeks. One reason for the increase: a series of concerts by the Puerto Rican rapper Bad Bunny, which have now been connected to at least 2,000 cases according to Puerto Rico's Office of Epidemiology. The concerts took place in an outdoor stadium, and audience members had to be vaccinated and wear a mask to attend. The high number of cases connected to this event indicates Omicron's high transmissibility, even in outdoor settings.
South Africa's Omicron wave continues to decline, and London may be seeing a similar pattern. Omicron cases have now been decreasing in South Africa for more than two weeks, with a 30% decline from December 18 to 25. The country's leaders recently lifted a curfew from midnight to 4 AM, though public gatherings are still restricted to 1,000 people indoors and 2,000 outdoors. A similar decline may be starting in London, another major Omicron hotspot—though holiday reporting delays and high testing demand make it hard to say for sure.
Continued evidence that Omicron cases are more likely to be mild. Data out of South Africa continue to show that patients infected with Omicron have a lower risk of severe symptoms than those infected in past waves. One study, published this week in JAMA, finds that the country's fourth wave has impacted younger patients with "fewer comorbidities, fewer hospitalizations and respiratory diagnoses, and a decrease in severity and mortality." As I've written before, this is likely thanks to South Africa's high prevalence of immunity from past infections. But a growing number of lab studies are also showing that Omicron may have inherent biological qualities that make it more mild, including a reduced capacity to infect lung cells compared to past variants.
It is worth noting, however, that mild, in the clinical sense, means that your case does not require hospitalization. A patient could have a high fever, become bed-bound for days, and even face Long COVID symptoms while still fitting the "mild disease" classification, as Nsikan Akpan discusses in this Gothamist article about his own experience with Omicron. Reminder: we still have next-to-no data on how Omicron may impact the likelihood of Long COVID.
Studies continue to indicate that vaccines protect against severe disease from Omicron, though protection against infection is less robust. A new preprint posted this week finds that "most of your T cell responses from vaccination or previous infection still recognize Omicron," explained study author Wendy Burgers in a Twitter thread. T cells are a type of immune system cell that participates in long-term response; their recognition of Omicron means that vaccinated people are still well-protected against severe disease. At the same time, a new study set to be published in Nature found that vaccinated people who'd received two doses had limited protection against infection, while people with three doses or multiple doses and a prior infection were better protected.
Antibodies made during an Omicron infection could provide protection against Delta. In Omicron hotspots, people who recently caught Delta have been readily infected by the new variant. But an Omicron infection may lead to anti-Delta antibodies in your immune system, according to a new preprint from South African scientists who tested blood samples from Omicron patients in the lab. "The researchers found, unsurprisingly, that the patients' blood contained a high level of antibodies potent against Omicron," explained Carl Zimmer in the New York Times. "But those antibodies proved effective against Delta, too." If other studies back up this finding, it could mean that regions with Omicron waves will be protected from Delta resurgence.
Pediatric hospitalizations are rising as Omicron spreads, but the variant is not necessarily inherently worse for children. In New York City, one of America's Omicron hotspots, pediatric hospitalizations increased four-fold from the beginning of December through last week, according to the New York State health department. State leaders are encouraging parents to get their kids vaccinated, as less than one-third of children in the five to 11 age group had received at least one dose as of December 24. As the New York Times points out, low vaccination rates for young kids, combined with the sheer number of cases caused by Omicron, are likely to blame for this increase—rather than some inherent quality of Omicron making it more severe for children.
The Omicron surge will be bad in the U.S., but it may boost nation-wide immunity for a few months afterwards. I highly recommend reading through this story by STAT's Megan Molteni, which walks through several potential scenarios for the Omicron winter surge in the U.S. Some highlights: while South Africa's short wave is promising, it might not translate to the U.S.; the country will be "in a viral blizzard nationwide" for the next few weeks; massive numbers of Americans will be infected (though their cases may be mild and go unreported); the whole world may be in a similar situation; and those huge case numbers could translate to a lot of immunity in the future. "The thing Omicron will do, because it's going to infect 40% of the entire world in the next two months, is it will raise population-wide immunity for a while," Chris Murray, director of IHME, told STAT.
More variant reporting